Nov 22nd, 2007 by Tessa Free |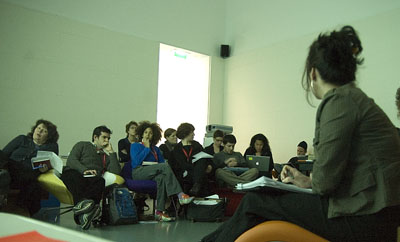 Iets later dan gepland begint de workshop 'Pre–emptive power' gegeven door Otolith Group kunstenaars Kodwo Eshun (1967) en Anjalika Sagar (1968) dan toch. Zaten er eerst nog maar zes participants in de discussieruimte, nu zijn de stoelen - oud en vertrouwd - allemaal bezet. Er wordt nog even geschoven met tafels en laptops maar met de drie beamers die al klaar staan wordt er een leuke en leerzame presentatie verwacht.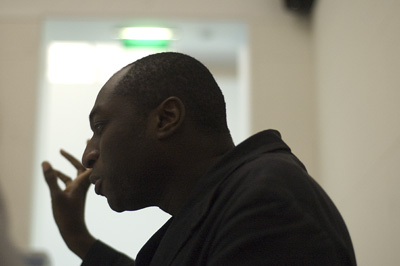 "Let's start with introducing the structure of the day, but first I want to do a little round to hear shortly what everybody's history is," begint Eshun. Na een snelle ronde waarin iedereen een toelichting geeft over zijn of haar woonplaats en werk geven de workshopleiders zelf ook een kleine toelichting hun eigen achtergrond.
Eshun en Sagar vormen samen met Richard Couzins, die vandaag helaas niet aanwezig kon zijn, de Otolith Group. Deze naam is ontleent aan het binnenoor van vissen, wat otolith heet, dat uit calciumcarbonaatkristallen en een gelatineuse massa bestaat. Deze spelen een rol in het mechanisch waarnemen van geluid, versnelling en zwaartekracht.
Wat Eshun en Sagar samen heeft gebracht is hun familiegeschiedenis. De kunstenaars zijn beide geboren en getogen in Londen, maar Eshun's familie is Ghanees en Sagar's familie is Indiaas. "We're both children of decolonisation," aldus Sagar. Ze zijn van de tweede generatie migranten en hebben beide ervaren hoe het is om je plek en identiteit te moeten vinden in Engeland.
"The question of becoming is something we find very interesting to talk about. First trough our own practice and later on in the workshop through relating to other research," aldus Eshun. Na wat geklungel met het licht gaat dan ook de beamer aan en wordt de eerste film laten zien: 'Otolith' uit 2003. Het is een futuristische film waarin het overvloedige ruimtereizen heeft geleid tot mutatie van de otolith in mensen. Dit met resutaat dat in de 22e Eeuw de mens niet meer in staat is om op aarde te functioneren en verplicht is in gewichtloze ruimtestations te leven. Otolith verbeeld de mondiale toekomst, terwijl het tegelijkertijd herinnert aan de opkomende sociale bewegingen en utopische experimenten.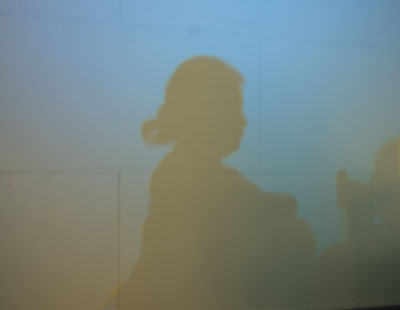 "The movie Otolith was the point of departure to rest of our work and it shows different approaches of being in space," aldus Eshun. Een opvallende uitspraak in de film is 'zero gravity makes fear elemental'. Eshun zegt dan ook: "many of us are haunted by the futures that may not come to pass and with this movie we want to create a discussion about this subject". Eshun en Sagar noemen Otolith een 'essay film', een genre dat gebaseerd is op de Duitse schilder, graficus en avantgardisch filmmaker Hans Richter (1888 – 1976).
Een andere productie van de Otolith Group die wordt toegelicht is 'The Owl's Legacy'. Hierin is de onbekende en gelijknamige televisieserie van Chris Marker uit 1989 tentoongesteld aan de Griekse bevoking tijdens de Griekse Biennale in Athene vorig jaar. Het laat interessante ontdekkingen zien over de Griekse geschiedenis en identiteit door middel van interviews met intelectuelen die een reflectie geven op het culturele erfgoed van het zuiderlijke land. De originele productie van eind jaren '80 is destijds uit de distributie gehaald omdat het de Griekse identiteit zou beledigen. "Untill now nobody had seen it, so we did our very best to show the series in Greece," aldus Eshun.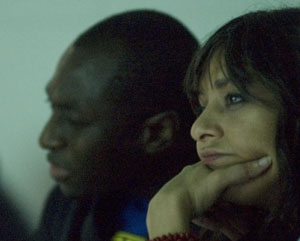 Na een lunchpauze gaan de workshopleiders door met een volgende – indrukwekkende – film: Punishment Park (1971) van Peter Watkins. "The movie is based on the idea of a prison without walls," zegt Sagar. In de film worden Amerikaanse burgers opgepakt zonder werkelijke aanleiding en worden ze verplicht binnen drie dagen een – in oorlogssituatie verkerende – woestijn te doorkruizen. Als ze het eindpunt halen worden ze vrijgelaten. Sagar: "I think this is a very interesting movie because this arresting before committing any crime is happening also in England now. Young girls and boys are wearing a leg bracelet which they can't get off, because the government sees them as potential criminals or terrorists".
Het onderwerp van gesprek schuift geleidelijk naar angst. "We live in a world with ambient fear," aldus Eshun. Nog niet zo heel lang geleden hing er een ongemakkelijke spanning over de wereld door de Koude Oorlog en nu is he teen terroristisch netwerk dat ons in de greep heeft, merkt iemand op. "We want to get more attention for overlooked or forgotten pasts," zegt Eshun. De afsluitende titel van film Otolith is dan ook: 'Be silent, for the Ears of the God are everywhere'.