Nov 18th, 2007 by Tessa Free |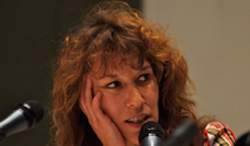 This morning at eleven o'clock the second public weekend of the Be[com]ing Dutch Eindhoven Caucus started with an introduction by Annie Fletcher. She immediately made clear that this welcome was actually meant to be for the non-participants because the participants heard this story more than once. With a short explanation about the goal and purpose of Be[com]ing Dutch she informed the audience about what they could expect.
"What is it to be right here, right now in the Netherlands? Please interact and debate with us on this subject," said Fletcher. She also made the three most important goals of the project clear: nationalism versus immigration and globalisation, the question if religion can be seen as adominant culture seperator. And overall: what part can art play (with special attention for the Van Abbemuseum) in this quest? While everybody makes themselves comfortable for the upcoming panel discussion that will take at least 1,5 hours, Fletcher introduces the panel participants: Tone O. Neilsen,Erden Kosova and Galit Eilat.